COVID-19 UPDATE 07.01.2022
In order to reduce the number of cases of Covid or related symptoms in school, we have returned to year group bubbles. We recognise that this is a difficult time for everyone, and thank our Winchcombe community for it's continued support.
The letter below has gone out to all parents at the start of the Spring term:
Dear Parents and Carers
It was wonderful to welcome your children back to school today. As ever, we are determined to make sure that we communicate clearly and honestly with you. As stated in my previous letter, we are doing all we can to keep everyone safe as cases of the new variant of Covid-19 continue to surge. With cases as they are, we do have to be realistic and there may well be some disruption we will need to navigate together through the term.
If the need arises, we are ready to move to remote learning using our online platform – DB primary. We will continue to set tasks for those children who are isolating due to Covid-19.
If staff numbers are affected because of Covid-19 then decisions will need to be made on a day-to-day basis as to what we are able to provide. If we have too few staff, then we may need to partially close sections of the school and move to some remote learning. I can assure you we will only do this unless we have no other choice as our priorities are, as always, are to keep everyone safe and the children in school.
Please note that per government guidance, anyone who is isolating following a positive test may now be released from isolation on day 8 IF BOTH tests via LFD on day 6 and 7 are negative. This does apply to all children at The Winchcombe School.
Please can I remind everyone that only one adult should come on to the school premises to drop the children off at school, using the one-way system and wearing a mask unless exempt.
Thank you for helping our children return safely to school
Kindest regards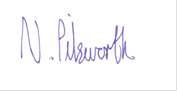 Neil Pilsworth