The School Day
| | |
| --- | --- |
| Phoenix Club Before School Starts | 08:00 |
| School Office and Main Gates Open | 08.30 |
| Classrooms open | 08:35 |
| Acorns Nursery open | 08:35 |
| Main School gates close | 08:40 |
| Registration | 08:45 |
| Late Marks given | 08.46-09.00 |
| Unauthorised Late Mark given | 09.01-09:20 |
| Absences must be notified by | 09:30 |
| Year 1 - Year 6 Break | 10:40-10:55 |
| Foundation Stage - Reception Lunch | 11:45-12:45 |
| Year 1 Lunch | 11.55-13:00 |
| Nursery/Acorns Morning Session Ends | 12:00 |
| Nursery/Acorns Afternoon Session Starts | 11:45 |
| Year 2 Lunch | 12:00-13:00 |
| Year 3 - 6 Lunch | 12:00 - 13:00 |
| End of Nursery/Acorns Day | 15:00 |
| End of School Day - Foundation 2 (Reception), Years 1-6 | 15:15 |
| Phoenix Club After School Ends | 18:00 |
Accessing the School
Late Arrivals
Children arriving to school after 8:45 am when the gates are locked, should proceed to the school main entrance to sign in at the school office.
Visitors
If you are entering the school for meetings, please access the school main entrance via the front forecourt. You will be required to sign in at the School Office.
Attendance, Absence & Lateness
Attendance and arriving on time to learn remains a high priority for us at school. Remember, good attendance and punctuality have a positive effect on your child's learning.
If your child arrives after the gates are locked, they will need to enter via the School Office to be signed in. Children arriving between this time and 9.05am will receive a "Late before registration closes" mark. Arrival after this time will incur a "Late after registration closes" mark, which is an unauthorised absence unless we have prior notice.
Illness - If your child is unwell, please telephone the school office before 9.30am for each day of absence. You may leave a message on the answer phone by dialling zero for the Absence line. You will receive a text message from school on the first day of absence if the school has not heard from you. This may be followed up with a phone call.
Please ensure that contact details are kept up to date as it is vital that we can get hold of you in an emergency.
You can read our latest guidance on Attendance here.
Keeping In Touch
The school operates a text messaging and email service on the Teachers2Parents app to contact families and provide information relating to school. Please tell the school office if you do not wish to receive these messages, or if you find that you are not receiving them and would like to.
Please ensure that your contact details are kept up to date as it is vital that we can get hold of you in an emergency.
Travelling To School
If you are travelling by car, an informal one way system is observed by parents, entering Maple Crescent from Shaw Social Club end (see map below). Please be considerate to our neighbours and observe the parking restrictions.

We have been allowed temporary access to use the car park at Shaw Social Club for drop-off and pick-up times. Please access this to the left of Winchcombe Place care home and exit behind Dingley's Promise.

Please do not park in the Staff Car park, up on the pavements or on the zig-zag lines, and be considerate to our neighbours. Lines indicating no waiting during peak times are now in place on Maple Crescent, and are regularly patrolled by traffic enforcement officers.

Bicycles/scooters may be left at your own risk in the bike pods provided - please ensure they are locked up.

Please, no dogs or smoking are allowed on or immediately just outside the school premises.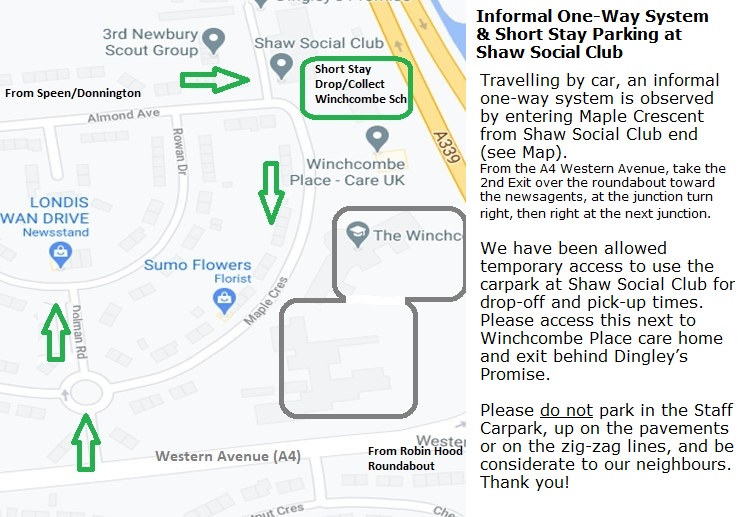 Food & Drink
School dinners are provided in-house. The current cost of a meal for children in Years 3 to 6 is £2.60. You can view the menu on the School Meals page. Alternatively, please ask at the school office for a current menu and payment details.

Please pre-order and pay online using SchoolMoney.

If you are unable to access our online system, please contact the School Office in person or by calling 01635 232780. Children will be able to choose a lunch in class or order via the office if not done so at home (the cut-off is midnight the day before).

There is no credit available, so if you have not paid your child will not receive a meal.

From September 2014, all Reception and Key Stage 1 children are entitled to a free school meal. If your child is in Key stage 2 (Year 3 and above) and you think you may be entitled to free school meals, please contact West Berks Council on 01635 551111 to be added to our list.

Key Stage 1 and Foundation children all receive a piece of free fruit every day as part of a government initiative. The only snacks allowed at break time are a piece of fruit.

The children are encouraged to bring a water bottle in to school every day and return it home to be washed and refilled (water only). Drinks bottles are available from the school office at a cost of £2.

We are a NUT FREE school, as we have children and staff who are severely allergic to nuts of any type. Please do not send your child in with any product containing nuts.
Medication
We are only able to administer any non-prescribed medicines (e.g. painkillers) to pupils on a short term basis under exceptional circumstances. A medication form must be filled in if your child needs to take medicine during the school day which can be obtained from the School office. Alternatively, you can download the relevant form here in Useful Forms under the Parents tab.

NB: If your child has an inhaler or auto-injector, please speak to a member of staff at the school office for the relevant Action Plan Form. It is the responsibility of the parent or carer to ensure that all inhalers and auto-injectors kept in school are within their use-by date.