The School Day
| | |
| --- | --- |
| School Office and Main Gates Open | 08.30 |
| Classrooms open | 08:40 |
| Acorns Nursery open | 08:40 |
| Main School gates close and registration | 08:45 |
| Late Marks given | 08.46-09.05 |
| Unauthorised Late Mark given | 09.05-09:20 |
| Absences must be notified by | 09:30 |
| Year 1 - Year 6 Break | 10:40-10:55 |
| Foundation Stage - Reception Lunch | 11:45-12:45 |
| Year 1 Lunch | 11.55-13:00 |
| Nursery/Acorns Morning Session Ends | 12:00 |
| Nursery/Acorns Afternoon Session Starts | 12:00 |
| Year 2 Lunch | 12:00-13:00 |
| Year 3 - 6 Lunch | 12:00 - 13:00 |
| End of school day - Foundation, Year 1 and 2 | 15:00 |
| End of school day - Year 3, 4, 5, and 6 | 15:15 |
Important Information
This letter below has gone out to parents from Mr Pilsworth at the start of the 2022-23 academic year:
Dear Parents/Carers
I so hope you have all had a good summer holiday and we look forward to welcoming the children back to school for the new academic year. Below are a few things we need you to be aware of.
When children return to school on Tuesday 6 September, they will need to be (as usual) at school from 8.40am with registration being from 8.45am rather than 8.50am due to the DfE asking us to extend the school day. The gates will open at 8.30am to facilitate this but children cannot be dropped off before 8.40am - when the classroom doors will open. Registration is at 8.45am and all children need to be in by this time – gates will be closed at this time. There will be a member of the leadership team in reception from 8.45am. If your child/children are not at school by 8.45am they will need to come through reception. The leadership team member will note all those children who are late and ask the responsible adult with them to provide an explanation and offer any help the school is able to, within its resources. I am very aware of how hard it can be to mobilise a family but is crucially important that children are at school on time.
During the previous academic year, we took into consideration the impact of the pandemic on families and authorised most absences even though we had been advised not to. From now on, we will be following DfE guidelines and will no longer be authorising any holidays during term time. Whilst we understand the effects of the pandemic have not just vanished, absence will only be granted in exceptional circumstances and unauthorised absence may incur a fine. This is not to be difficult and we totally understand the issues around the ever-increasing cost of going on holiday during the school holidays, alongside the ever-increasing cost of living. We are desperately trying to help all pupils catch-up and recover from the pandemic - all research agrees that the number one factor in determining pupil progress at school is attendance.
Please can we ensure that we do keep to the school uniform policy that has been sent you previously and is attached again for your information. It is really important that we are one community and the school uniform promotes this identity. Also, please ensure that your child's/children's uniform is named.
On Thursday 7th September, your child's/children's new teacher will be in their classroom from 3-3:15p.m. for KS1 and 3:15 – 3:30p.m. for KS2. This is a chance for you to meet the new teacher/teachers. Parents of Foundation Stage 2 children are invited to a Welcome Meeting at 1p.m. on Thursday 15th September. On this occasion, the children will remain in play for an extra half an hour so you can attend the meeting prior to pick-up. This will be an opportunity to learn more about the Early Years approach to teaching and learning and to have any questions which arise in those initial days, answered. There will be a whole school Parents Evening on Wednesday 12th October from 1-7pm where you can have a more formal discussion about your child/children. Of course, if there is anything that is concerning you before that date then please do not hesitate to arrange a time to meet the class teacher/teachers.
Having spoken to hundreds of children across the school -as well as to all staff – we have decided to make some changes to our behaviour policy. The children stated that they were confused by the warning system so that will be replaced by a card system – white for a warning, yellow for continuing difficult behaviour and a red card for persistent difficult or dangerous behaviour. Yellow and Red cards carry fair and respectful consequences which will be made clear to the children as well as to you. The principles behind the system will not change. We will still look at the thoughts and feelings that are driving the behaviour, alongside giving pupils clear boundaries. Mrs Betts and I will be holding a parent forum to discuss the changes to this and to our school values with you on Friday 9th September from 2-3p.m. in the main hall. Please, please come if you can – even if it is later during the session. Your voice is very important to us. During the session, we will also be asking you for your thoughts on what living each of our four values means. A document showing these changes is attached.
We are really looking forward to seeing everyone again tomorrow.
Thank you so much for your continued support
Neil Pilsworth
Accessing the School
Late Arrivals
Children arriving to school after 8:50am when the gates are locked, please proceed to the school Main Entrance for them to sign in at the School Office.
Visitors
If you are entering the school for meetings, please access the school Main Entrance via the front forecourt. You will be required to sign in on our Visitors screen at the School Office and will agree our Visitors Agreement.
Attendance, Absence & Lateness
Attendance and arriving on time to learn remains a high priority for us at School. Remember, good attendance and punctuality has a positive effect on your child's learning.
Our timetable of the day is above for your convenience.
If your child arrives after the gates are locked, they will need to enter via the School Office to be signed in. Children arriving between this time and 9.05am will receive a "Late before registration closes" mark. Arrival after this time will incur a "Late after registration closes" mark, which is an unauthorised absence unless we have prior notice.
Illness - If your child is unwell, please telephone the school office before 9.30am for each day of absence. You may leave a message on the answer phone by dialling Zero for the Absence line. You will receive a text message from school on the first day of absence if the school has not heard from you. This may be followed up with a phone call.
Please ensure that contact details are kept up to date as it is vital that we can get hold of you in an emergency.
You can read our latest guidance on Attendance here.
Keeping In Touch
The school operates a text messaging and email service on the Teachers2Parents app to contact families and provide information relating to school. Please tell the school office if you do not wish to receive these messages, or if you find that you are not receiving them and would like to.
Please ensure that your contact details are kept up to date as it is vital that we can get hold of you in an emergency.
Travelling To School
If you are travelling by car, an informal one way system is observed by parents, entering Maple Crescent from Shaw Social Club end (see map below). Please be considerate to our neighbours and observe the parking restrictions.

We have been allowed temporary access to use the car park at Shaw Social Club for drop-off and pick-up times. Please access this to the left of Winchcombe Place care home and exit behind Dingley's Promise.

Please do not park in the Staff Car park, up on the pavements or on the zig-zag lines, and be considerate to our neighbours. Lines indicating no waiting during peak times are now in place on Maple Crescent, and are regularly patrolled by traffic enforcement officers.

Bicycles/scooters may be left at your own risk in the bike pods provided - please ensure they are locked up.

Please, no dogs or smoking are allowed on or immediately just outside the school premises.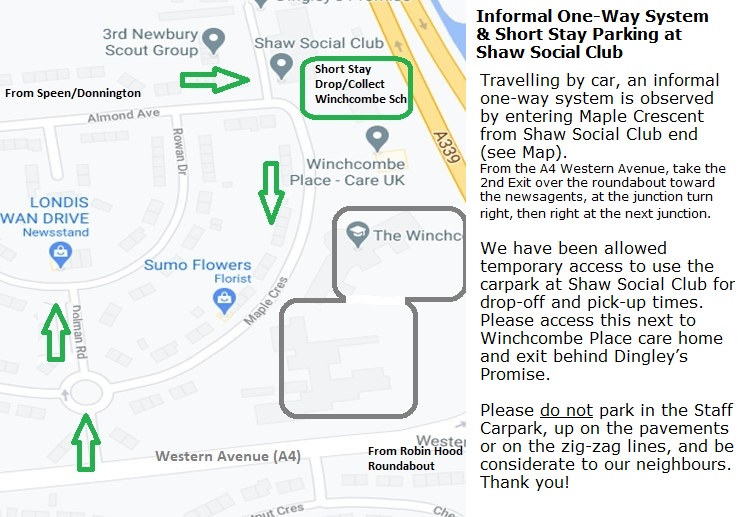 Food & Drink
School dinners are provided in-house. You can view the menu on the School Meals page. Alternatively, please ask at the school office for a current menu and payment details.

The preferred method is to order and pay online using SchoolMoney.

If you are unable to access our online system, please contact the School Office in person or by calling 01635 232780. Children will be able to choose a lunch in class or order via the office if not done so at home (the cut-off is midnight the day before).

There is no credit available, so if you have not paid your child will not receive a meal.

From September 2014, all Reception and Key Stage 1 children are entitled to a free school meal. If your child is in Key stage 2 (Year 3 and above) and you think you may be entitled to free school meals, please contact West Berks Council on 01635 551111 to be added to our list.

Key Stage 1 and Foundation children all receive a piece of free fruit every day as part of a government initiative. The only snacks allowed at break time are a piece of fruit.

The children are encouraged to bring a water bottle in to school every day and return it home to be washed and refilled (water only). Drinks bottles are available from the school office at a cost of £1.

We are a NUT FREE school, as we have children and staff who are severely allergic to nuts of any type. Please do not send your child in with any product containing nuts.
Medication
We are only able to administer any non-prescribed medicines (e.g. painkillers) to pupils on a short term basis under special circumstances. A medication form must be filled in if your child needs to take medicine during the school day which can be obtained from the School office. Alternatively, you can download the relevant form here in Useful Forms under the Parents tab.

NB: If your child has an inhaler or epi-pen, please speak to a member of staff at the school office for the relevant Action Plan Form.